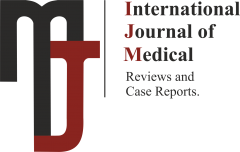 Int J Med Rev Case Rep. Year: 2022, Volume: 6, Issue: 2
Case Report

A Sporadic Case of Lofgren Syndrome in a 32 year old Nigerian man. A rare finding in Sub-Saharan Africa: A case report




Original Research

Utilization of Chlorine Dioxide Solution to Prevent Halitosis Due to Coated Tongue



Visual impairment in Type 2 Diabetes mellitus in comparison with non diabetic population in a suburban area of Tamilnadu, India




Case Report

A Patient with Recurrent Urinary Tract Infection (Relapse) in Systemic Lupus Erythematosus (SLE)



Acute pulmonary embolism in a young female with inherited thrombophilic disorder and large thrombus through a patent foramen ovale




Review Article

Microspheres for Inhalation Delivery (Characteristics and In Vitro Release)




Original Research

Characteristic of metabolic status in blind people in Denpasar, Bali




Case Report

Hyperactive Delirium Management Due to Electrolyte Imbalance in Geriatric Patients




Original Research

Hospital based prospective, non-randomized descriptive study to find out the incidence of intraoperative awareness during general anaesthesia and evaluation of the risk factors causing awareness.




Case Report

Recurrence of Primary Spontaneuous Pneumothorax of Female with Presented of Left Inferior Lobe Lung Bullae : A Case Report and Review



MYT1L duplication in a Portuguese patient with intellectual disability and obesity



A Cervical Carcinoma Patient with Therapy-related Myeloid Neoplasm after Chemotherapy and Radiotherapy



A Rare Case of Myeloproliferative Neoplasm with Eosinophilia Presenting with Simultanoeus Ocular, Neurological, and Cutaneous Manifestations




Review Article

Coagulopathie et coagulation intravasculaire disséminée associées au COVID-19




Case Report

Spondylodiscitis revealing aerococcus viridans infective endocarditis: Rare case report




Review Article

La maladie coronarienne: Facteurs de risque et traitement




Case Report

Anaesthetic management for patient with severe mitral stenosis to isthmolobectomy operations: Case report




Original Research

Correlation between homocysteine and osteoprotegerin (OPG) serum with bone mineral density in women with systemic lupus erythematosus




Case Report

Cardiac resynchronization therapy with physiological left bundle branch pacing as a treatment for arrhythmogenic cardiomyopathy with left ventricle involvement: a new therapeutic approach?



Early Pathological Diagnosis for Earlier treatment: A case of Lupus Nephritis.